Enhancing internal communication with each employee

Use case:
Project
Mercer intends to activate the use of the social benefits it offers to its customers' employees. A video explaining the benefits has been created, personalized by company and by employee. In addition to the explanation, the video proposes the best activation alternative per employee, based on their profile.
Objective
Promote the activation and use of Mercer's employee benefit programs.
To help companies innovate in internal communication processes.
Facilitate access to the benefits program.
Keys
Customization capacity by company, segment, employee, activation level...
Adaptation of the scenes to the profiles of each B2B client
Detailed tracking of results including clicks on the landing buttons
Results
+ 3X employee activation compared to traditional email
+ 2X in the hiring of new benefits in the plan.
72% of customers watch the entire video
30% consult the information several times, with values of up to 60% repetition
More than 46% of the employees access the platform to see more information.
Email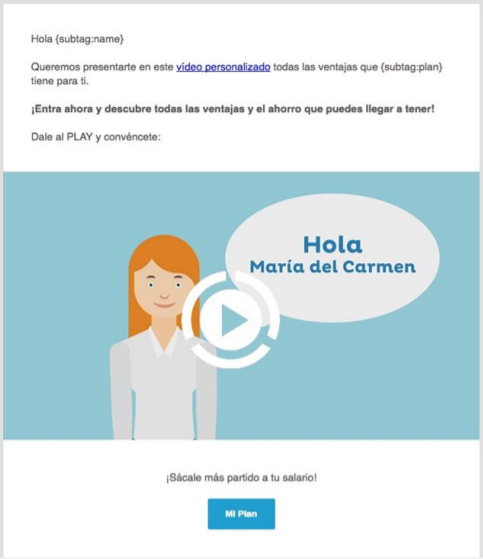 Landing page